Jul
15
2021
Big Butterfly Count 2021: Get spotting!

Butterflies are the best!
It's a competitive field, but I'll almost go as far as saying that butterflies are my favourite group of insects. They'd narrowly defeat hoverflies on penalties! (Is it too soon to mention penalties??)
Butterflies are brilliant. Their lifecycles are nothing short of miraculous. The transformation from egg to caterpillar to chrysalis to adult butterfly is a mind-boggling feat. Butterflies over-winter as an egg, a caterpillar, a chrysalis or as an adult. Some have multiple broods in a single season, some only one. Some are tied to a very specific habitat, others are generalists. Some rely on intricate relationships with ants to provide protection – this is the case with some of the blues, including our heathland's very own silver-studded blue. Some migrate here from overseas – the intrepid painted lady and clouded yellow being fascinating examples.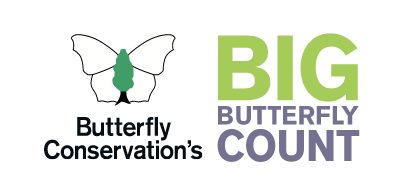 Big Butterfly Count 2021
From Friday 16 July to Sunday 8 August Butterfly Conservation, are running their annual Big Butterfly Count – an opportunity for everyone to become a citizen scientist and help build up a picture of how our amazing butterflies are faring.
It's a fantastic opportunity for you to learn a bit more about butterflies – solar-powered bundles of fluttery joy!

How to take part?
All you need to do is spend fifteen minutes, between Friday 16th July and Sunday 8th August 2021, counting the butterflies you see and then submit your results. You can either spend the time in one place or on a walk. For the former, you record the greatest number of each species you see at any one time (this helps to avoid counting the same one twice) and, for the latter, you just tally up everything you see as you go. You can count in your garden, at your local park or a greenspace on your doorstep.
You can even count the butterflies on a heathland visit, keeping a special eye out for our local gems – silver-studded blue and grayling!
For more information on the Big Butterfly Count, click here.
Look out for rare heathland butterflies!
If you'd like to help us monitor two standout heathland butterflies, the silver-studded blue and grayling, please visit our citizen science page and get spotting.
All sightings are important and we'd love to see your photos!
Thanks,
Michael
Education Officer (and butterfly super fan!)