Lily Hill & Longhill Parks
Free parking (2m height restriction at Longhill Park)
Plenty of bins
Benches and picnic tables
Accessible surfaced paths
Over 4km of walking
Green Flag awarded Lily Hill Park:
Outdoor catering van Wed-Sun
Water tap
Static orienteering course
Popular with Pokémon Go fans
At Longhill Park:
BMX and skate park
Play park
Picnic tables
See Lily Hill route…
Where you'll find it…
Find a large free car park for Lily Hill Park on Lily Hill Road, Bullbrook in Bracknell, nearest postcode RG12 2RX. Grid reference SU 88752 69466. What3Words: bill.leap.puddles. There's also a free car park at Longhill Park on Long Hill Road, nearest postcode RG12 9UE. Grid reference SU 89354 69274. What3Words: usage.casino.violin.
N.B. We've given the nearest postcode, but recommend using the links to look up the exact location. The centre of a postcode may be up to half a mile from your destination.
What you'll find there…
Let yourself be charmed by characterful Lily Hill Park. There's something new to discover around every corner: children's play activities carved out of tree trunks, a covered bandstand, a whole tree "balancing beam", story-telling throne, and not forgetting England's longest picnic bench, carved from a single piece of wood! There's even a scented ornamental garden – maintained by Heritage Park Gardeners.
Strolling through woodland, formal gardens and open grassland, keep an eye out for the park's enormous redwood tree. It's hard to miss! As well as featuring excellent open spots for dog walking, Lily Hill Park is home to a number of fascinating native and ornamental trees and plants, including common spotted orchids, snowdrops and monkey puzzle trees. And it isn't just plants that can be found at the park. Birds including tree creepers and goldcrests inhabit this Local Wildlife Site, and if you're there in the early evening, you may be lucky enough to see one of six species of bat!
Extending your visit, a stone's throw away is Clinton's Hill, a small but beautiful woodland. A haven for woodland wildlife and some interesting fungi. Across Lily Hill Road you'll find Longhill Park, also a Local Wildlife Site with some interesting finds, including Britain's legless lizard the slow worm. Once a refuse site, Longhill Park has been converted into a lovely open space popular with dog walkers and families. There's something for everyone here, with a junior and toddler play area, and the largest BMX and skate park in the borough.
For the more adventurous, a circular route links Lily Hill Park, Longhill Park and Clinton's Hill on a 4km circuit. And the Bullbrook Countryside Corridor is a longer version of this route, a 7.5km circular route, also visiting in Whitegrove Copse, Edmund's Green, Harvest Hill and the Chestnuts.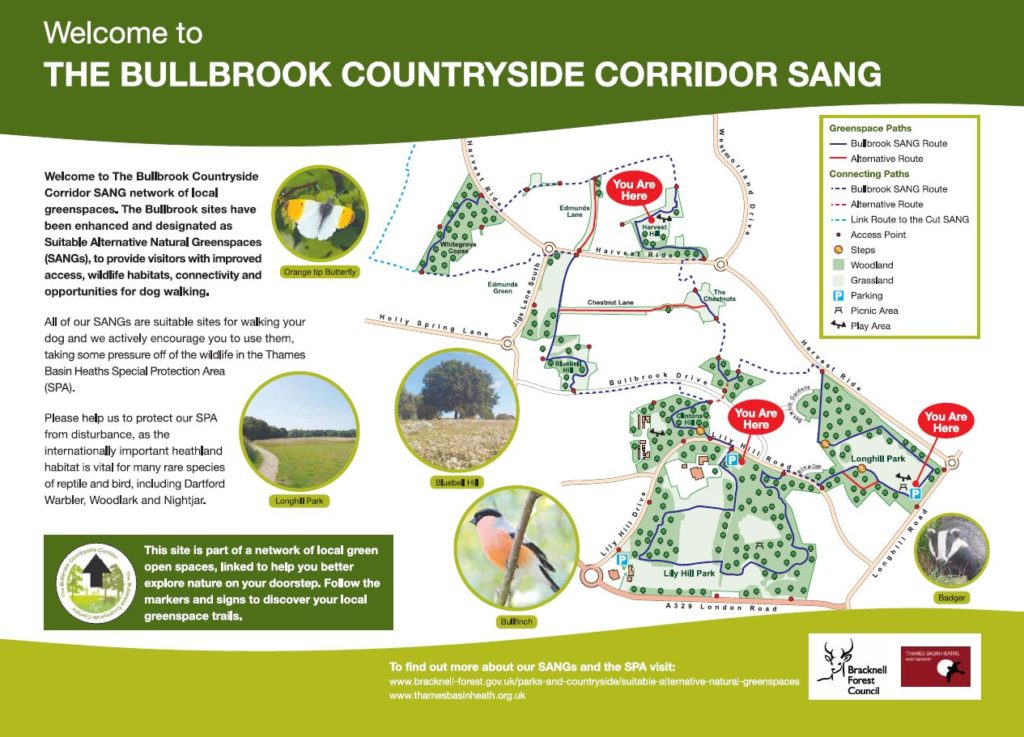 See Bullbrook route…
Gallery…
If you'd like to contribute to this gallery, we'd love to hear from you. Please send us your pictures via Facebook, Twitter or email.
This 'Greenspace on your doorstep' is managed by…