Schools: Our Amazing Heathlands

Teachers!
Have you thought about using local heathland to connect students with nature?
'Our Amazing Heathlands' sessions are FREE curriculum-linked educational activities for local schools.
'Our Amazing Heathlands' sessions explore the curriculum through a fascinating world of butterflies, ground-nesting birds and carnivorous plants in a habitat rarer than rainforest.
'Our Amazing Heathlands' sessions are brilliant opportunities to take your curriculum learning out of the classroom, exposing your pupils to the undoubted benefits of being out in nature. It's also a whole lot of fun!
What's on offer?    Further study    Blogs    Testimonials     Email us
What's on offer?
A heathland visit can be used to learn about animals and their habitats, classification, adaptation, plants, food chains. There are lots of opportunities to work scientifically using a range of equipment and use fieldwork skills. These visits also cover a wide-range of curriculum drivers, including environment, well-being, and community.
Students will participate in exciting activities and challenges, and learn about a remarkable habitat and the plants and animals that live there. There are opportunities to be a heathland scientist, hunt for minibeasts and search for plants, whilst discovering how heathlands have been used throughout history and finding out how this fragile landscape is under threat and what we can all do to protect it.
We currently offer sessions for KS1 and KS2 and these include:
Investigate some of heathland's micro-habitats, searching out some of the area's smaller residents along the way. Students will record what they find and use this information to compare micro-habitats. There are opportunities to use a range of scientific equipment, including data loggers to measure non-living factors, like light and temperature. Students will also be able to use fieldwork and observational skills to study their environment.
Invertebrate investigations
Minibeasts are a fascinating part of any ecosystem and on a heathland is no exception! Students will conduct an invertebrate survey using a variety of techniques and learn to identify what they have found using simple keys. There are opportunities to take a really close look at some of the species found and then do some scientific drawing.
Throughout history, people have relied on heathland plants to help them survive. Students will survey the habitat for some of the key plant species, including three types of heather, gorse, birch and pine, whilst learning how to identify them and find out what they have been used for over the years. There are also opportunities to learn about plant structure and function.
All of the sessions detailed above include a multi-sensory fact-hunting activity, where students become intrepid heathland explorers. They will search for answers to questions about some of the heath's key plants and animals, whilst learning about some of the challenges the habitat faces, including destructive wildfires.
If you are lucky enough to be close enough to a heathland for your students to visit each season, we can facilitate seasonal walks to help students note changes in nature throughout the year. Students will use spotter sheets to identify and log some of the species they find, including evergreen and deciduous trees. There are opportunities to learn about hibernation and migration.
The magic of heathlands: Virtual session
Heathlands are amazing places, filled with rare wildlife that is often hidden from view. We offer a virtual session that introduces your students to the magic of heathlands. A brief overview of what heathland is and how it has been shaped by local people throughout history leads on to the introduction of fantastic plants and animals, such as the nightjar, carnivorous sundew and adder. There is also time to cover some of the threats the habitat faces, including destructive wildfires, and opportunities to learn what we can all do to help protect these special places. Sessions are interactive and have plenty of opportunities for students to get involved and ask questions.
Opportunities for further study
We can help you to put your local heathland at the heart of your curriculum!
A practical session on the heath with us can be used as a starting point for many different activities on return to school and we can suggest how you might use the experience to cover lots of aspects of the curriculum, providing classroom delivery or lesson suggestions and resources, if needed.
Our blogs
Find out how local schools have benefited…
Our testimonials
What have teachers been saying?
[Click to view]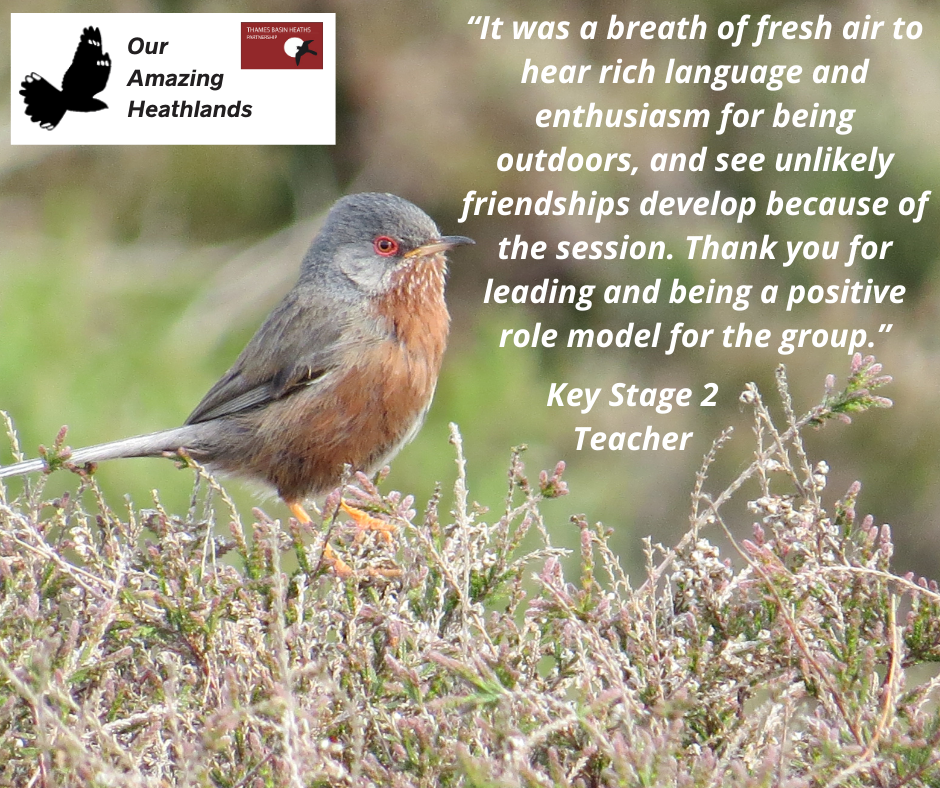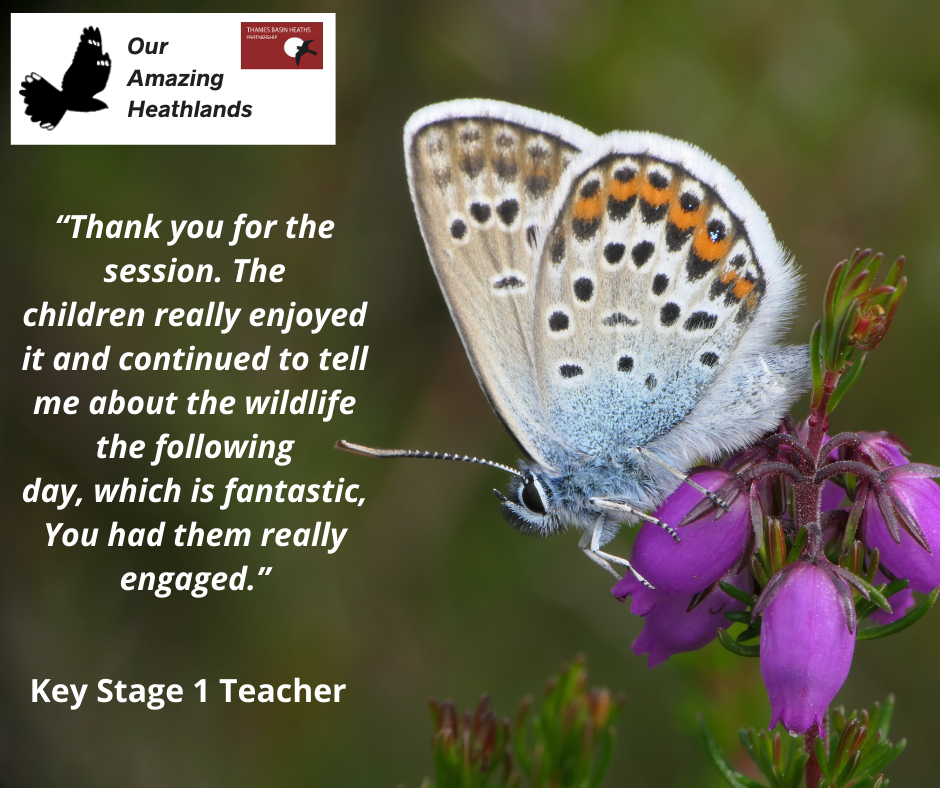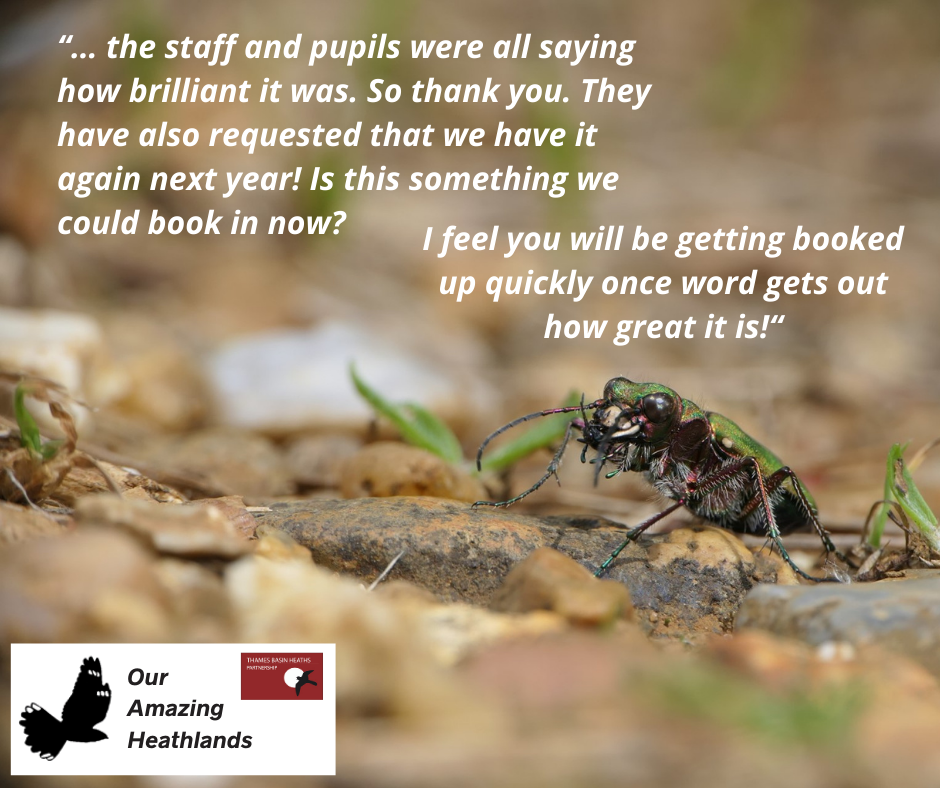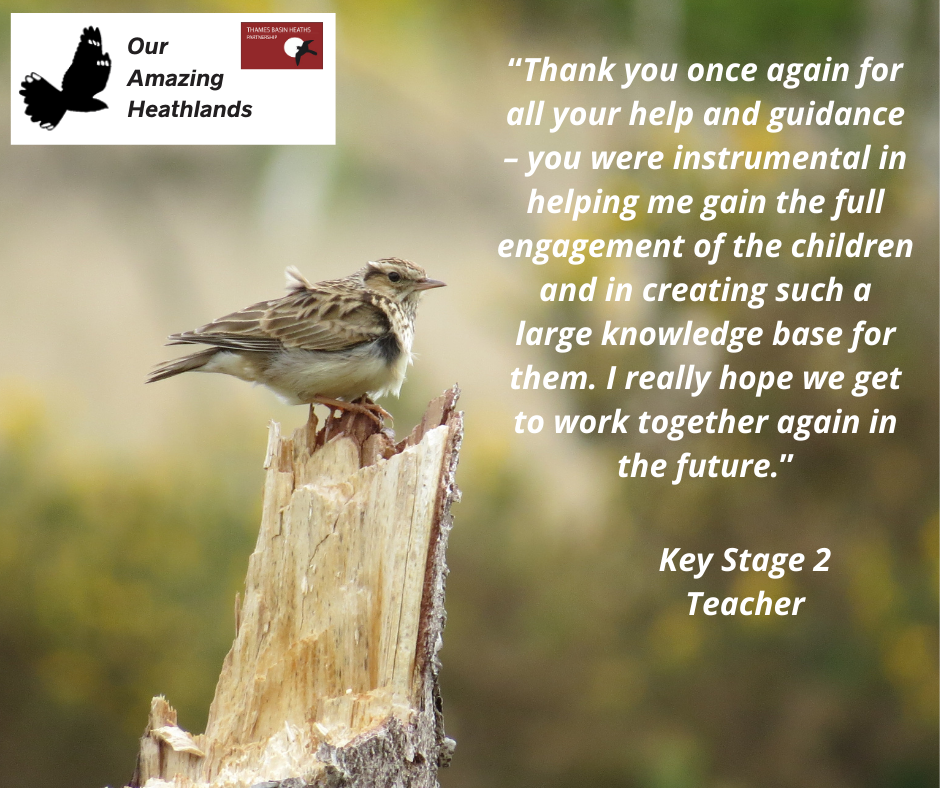 Contact tbhschools@naturalengland.org.uk to find out more.
#OurAmazingHeathlands