Schools: Our Amazing Heathlands

Teachers!
Have you thought about using local heathland to connect your students with nature?
'Our Amazing Heathlands' sessions are FREE curriculum-linked educational activities for local schools.
'Our Amazing Heathlands' sessions explore the curriculum through a fascinating world of butterflies, ground-nesting birds and carnivorous plants in a habitat rarer than rainforest.
'Our Amazing Heathlands' sessions are brilliant opportunities to take your curriculum learning out of the classroom, exposing your pupils to the undoubted benefits of being out in nature. It's also a whole lot of fun!
What's on offer?
The perfect way for your students to embark on a journey of heathland discovery is through our classroom session – The magic of heathlands – an interactive multimedia exploration of a rare habitat and its amazing inhabitants: –
Heathlands are amazing places, filled with rare wildlife that is often hidden from view. We offer a session that introduces your students to the magic of heathlands. A brief overview of what heathland is and how it has been shaped by local people throughout history and leads on to the introduction of fantastic plants and animals, such as the mysterious nightjar, carnivorous sundew and amazing adder. There is also time to cover some of the threats the habitat faces, including destructive wildfires, and opportunities to learn what everyone can do to help protect these special places. Sessions are interactive and have plenty of opportunities for students to get involved and ask questions about heathlands and UK wildlife.
Schools have used this session as a springboard to embark on further heathland study – Which we can support with resources.
Email us to find out more
On heath sessions
A heathland visit can be used to learn about animals and their habitats, classification, adaptation, plants, food chains. There are lots of opportunities to work scientifically using a range of equipment and use fieldwork skills. These visits also cover a wide-range of curriculum drivers, including environment, well-being, and community.
Students will participate in exciting activities and challenges, and learn about a remarkable habitat and the plants and animals that live there. There are opportunities to be a heathland scientist, hunt for minibeasts and search for plants, whilst discovering how heathlands have been used throughout history and finding out how this fragile landscape is under threat and what we can all do to protect it.
We currently offer sessions for KS1 and KS2 and these include:
Practical, on heath sessions allow your students to learn about habitats, plants and animals. There are opportunities to use a range of equipment and work scientifically.
If you would like further information, get in touch – tbhschools@naturalengland.org.uk
Opportunities for further study
We can help you to put your local heathland at the heart of your curriculum!
A practical session on the heath with us can be used as a starting point for many different activities on return to school and we can suggest how you might use the experience to cover lots of aspects of the curriculum, providing classroom delivery or lesson suggestions and resources, if needed.
Our blogs
Find out how local schools have benefited from heathland sessions…
Our testimonials
What have teachers been saying?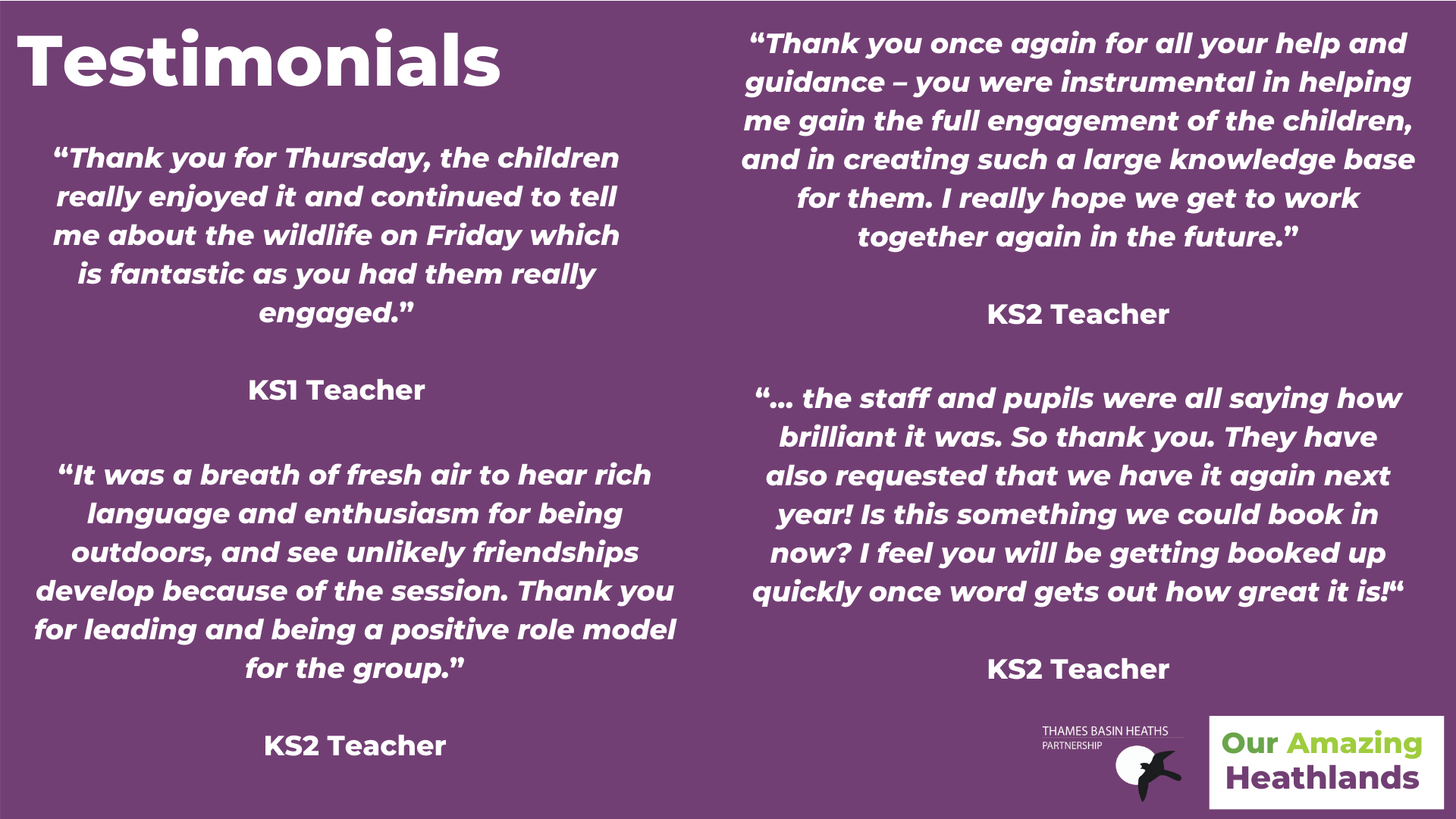 Contact tbhschools@naturalengland.org.uk to find out more.
#OurAmazingHeathlands