Shepherd Meadows
Free car park (height restriction 2.2m)
Disabled parking spaces
Bins
Benches and picnic tables
Riverside walk in the Blackwater Valley
Ajoining Sandhurst Memorial Park with children's play area, sporting facilities, a café and toilets
1.2km circular walk on surfaced paths, extending to 2.7km including unsurfaced sections
See route…
Where you'll find it…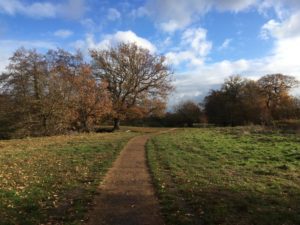 The free car park is just off the A321, Marshall Road, Sandhurst, nearest postcode GU47 0FL. Grid reference SU 84871 60709. What3Words: breezes.shin.bandstand.
N.B. We've given the nearest postcode, but recommend using the links to look up the exact location. The centre of a postcode may be up to half a mile from your destination.
What you'll find there…
This award-winning park on the outskirts of Sandhurst, Shepherd Meadows, is named after wildlife artist and campaigner David Shepherd. There are flower-rich meadows to explore along the River Blackwater, and a choice of routes. A shorter loop on surfaced paths, or a longer stroll venturing onto unsurfaced paths. The surfaced path is well made and level, and would make a nice walk with a buggy or wheelchair. The ramp coming off the far bridge is quite steep. You don't have to go that way though, follow instead the signposted path to neighbouring Sandhurst Memorial Park and take advantage of its children's play area or sporting facilities, or sample the diary ice cream at the café.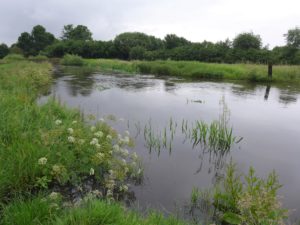 If you're feeling more energetic, there are great links to the surrounding countryside via the signposted Blackwater Valley Path. Head upstream and you'll come to Hawley Meadows, another lovely stretch of the river, with a good path taking you on a circular walk.
Shepherd Meadows is a nature reserve, part of the Blackwater Valley Site of Special Scientific Interest, and in the spring and summer the meadows are carpeted in wildflowers, including buttercups, devil's bit scabious and birds-foot trefoil. The meadows are home to over 600 species of insect, including the orange tip butterfly, one of the first butterflies to emerge from its chrysalis. A true harbinger of spring!
Gallery…
If you'd like to contribute to this gallery, we'd love to hear from you. Please send us your pictures via Facebook, Twitter or email.
This 'Greenspace on your doorstep' is managed by…