Dec
03
2018
An ever changing landscape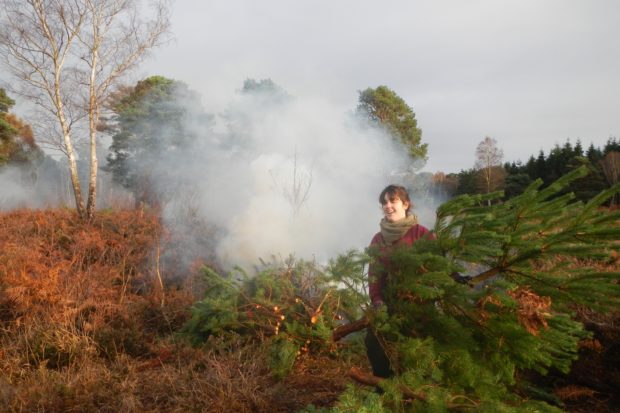 I've been thinking about the history of heathland recently and how to convey the idea of it as an ever changing landscape. Nothing in nature stands still for long. Think of your garden, if you have one. What would happen if you didn't do any weeding for a season? Weeds would take over, your prize plants swamped with brambles and the like. Just a few saplings might take hold at first. But if you left it for a decade, you'd come back to a fledgling woodland! Leave it for thirty years and you wouldn't even recognise it. In ecology we call this natural process 'succession'.
Heathland has always been influenced by man, holding back 'succession', creating an open landscape that's largely devoid of trees. From early farmers, thousands of years ago, who created the first clearings. Through the years when commoners scratched a living from the land, collecting fire wood and turfs, and grazing their animals. Through generations of military training and vehicle testing. Even rabbits have played a part, until myxomatosis hit them so hard.
Now that no one relies on the heath for a living, we keep it open by clearing scrub, felling trees, grazing, scraping the ground to create bare areas and sometimes even burning it in a controlled way. But why? Stand on Staple Hill at Chobham Common, or High Curley at Lightwater Country Park, or perhaps Caesar's Camp, overlooking Farnborough airport. Look beyond the heath and you'll see trees as far as the eye can see! We're very lucky to have so many trees. It's great for people and great for wildlife. But in this sea of woodland, the heaths are small open areas. Somewhere for different species, those that can't live in the shade, to thrive. Species that have come to depend on this habitat, over thousands of years.
The heathlands have more high priority, rare species than other habitats. So while ancient woodland, chalk grassland, wetlands, and a host of other habitats, are very important, heathland has been recognised as something very special. Something that will quickly disappear unless it's managed. It's difficult to pick out just a few of the treasures we'd lose. We'd lose the Dartford warbler, popping up to claim its territory with its scratchy song. The nightjars wouldn't return from their African winter. Rare butterflies and reptiles would struggle in the shade and quickly disappear.
It's easy for a nature lover to see that the heath is worth holding onto, and deserves the robust environmental protection it receives. But it's not just for nature lovers. For anyone who enjoys the open space, somewhere to walk the dog, somewhere to get away from the hustle and bustle of modern life, the heaths are treasure in themselves. To my mind it's a perfect virtuous circle. The wildlife is there, so we protect the heath, the wildlife is there, so the heath is protected for all of us. So even if you aren't interested in wildlife, spare a thought for it. Without the wildlife, the heaths might not be there.
Have a look around the website, there's much more information about our heathland patch and how you can help to protect it. Please help us spread the word.
Snr Warden Sarah