Piglittle Field
Warning
: file_get_contents(http://free.sharedcount.com/?url=https%3A%2F%2Fwww.tbhpartnership.org.uk%2Fsites%2Fpiglittle-field%2F&apikey=c9c2ee1bd8fb7f23079670fbb24c42c7e8294937): failed to open stream: HTTP request failed! HTTP/1.1 403 Forbidden in
/home/forge/tbhpartnership.org.uk/html/content/plugins/a7-share/a7-share.php
on line
58
Bins
Benches
Some surfaced paths
Lovely meadows with far reaching views
3km circular walk
Links to other greenspaces including Pope's Meadow
Where you'll find it…
Find the pedestrian entrance near the top of Chapman Drive, Amen Corner, Binfield, nearest postcode RG42 4FZ. Grid reference SU 83732 69249.
What you'll find there…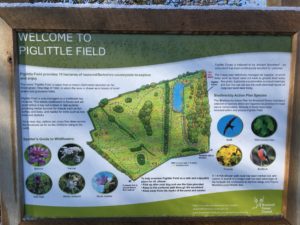 One of the nicest surprises during the research for "Greenspace on your doorstep" was our first visit to Piglittle Field. We visited on a blue sky, snowy day in January and it was lovely, with far reaching views of the surrounding countryside. On a clear day, you can see all the way to the Chiltern Hills.
The footpath extends beyond the area shown on the noticeboard, so it's even better than it looks. The neighbouring field has a circular, surfaced footpath and the two link very nicely to create a 3km route. This field will eventually have a dedicated car park, but it's not open yet (as of January 2019).
There are also options to build a visit to Piglittle Field into a longer walk from nearby Pope's Meadow. It's possible to walk from Peacock Meadows, but the footpath is not very pleasant in places, so we'd recommend the former option at the moment. You can also pickup the Wokingham Way here or the Rambler's Route at Pope's Meadow.
N.B. The bins we found were in the new bit, on the surfaced path section, not the area immediately adjacent to the housing development.
Gallery…
If you'd like to contribute to this gallery, we'd love to hear from you. Please send us your pictures via Facebook, Twitter or email.