Englemere Pond
Free parking (2.2m height restriction)
Bins
Benches and picnic table
Scenic pond with viewing platform and information
Choice of marked routes on good paths
Routes of around 2km with possibilities for longer walks
See route…
Where you'll find it…
Find the free car park on Swinley Road (B3017), Winkfield Row, Ascot, nearest postcode SL5 8BB. Grid reference SU 90066 68425. What3Words: sang.focus.horn.
N.B. We've given the nearest postcode, but recommend using the links to look up the exact location. The centre of a postcode may be up to half a mile from your destination.
What you'll find there…
Englemere Pond is a jewel, with its beautiful open water, reedbeds, peaceful woodland and heather. A real treat of a walk. There are two marked trails that take you past a platform with the best view across the water. The shorter 'woodpecker trail' leads you past the platform and around the heath, and the longer 'dragonfly trail' takes in a circuit of the pond as well.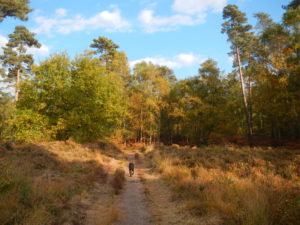 The reedbeds are full of chattering warblers in the spring, warm summer days bring out a multitude of dragonflies, and on summer evenings house martins and swallows swoop low over the water. It's not hard to see why it's a Local Nature Reserve and a Site of Special Scientific Interest, the different habitats attract all sorts of wildlife.
For those looking for a longer walk, you can pick up Bracknell Forest's Ramblers Route. This 26 mile/41.8km waymarked walk, starting from The Look Out Discovery Centre on Nine Mile Ride, passes right through. If you happen to be on the east side of Bracknell, or at The Look Out, you can join section 4 of the Ramblers Route on its way through Swinley Park to Englemere. More information and a leaflet is available from The Look Out.
My favourite greenspace: Find out why Englemere Pond is Warden Jamie's favourite.
Gallery…
If you'd like to contribute to this gallery, we'd love to hear from you. Please send us your pictures via Facebook, Twitter or email.
This 'Greenspace on your doorstep' is managed by…