Cut Countryside Corridor
Free parking (2.1m height restriction)
Bins
Benches and picnic tables
Linked countryside along the River Cut
6km circular walk with lots of options
Longer walk if including Cabbage Hill or Blue Mountain
See route…
Where you'll find it…
Find the free car park at Larks Hill on Harvest Ride, Warfield, nearest postcode RG42 2QA. Grid reference SU 87052 70798. What3Words: influencing.scared.miles. With additional parking at Jock's Lane Recreation Ground on Binfield Road, nearest postcode RG12 2BH. Grid reference SU 85875 70254. What3Words: dose.pine.foods.
N.B. We've given the nearest postcode, but recommend using the links to look up the exact location. The centre of a postcode may be up to half a mile from your destination.
What you'll find there…
The Cut Countryside Corridor is an interesting ramble along the route of the River Cut, linking Larks Hill, Piggy Wood, Garth Meadows, Jock's Copse and Tinker's Copse. The route crosses a couple of main roads, but there are always safe places to cross and it doesn't detract from the walk.
Most of the route is well waymarked, but it is useful to have a look at the map (below and displayed on the walk) before setting off. Start at Larks Hill, where you'll find wildflowers in the meadows or fruit in the community orchard, depending on season! Pop into Piggy Wood, then head off to Garth Meadows, just along Harvest Ride, heading west. Extend your walk by taking in Jock's Copse and Tinker's Copse, or even Cabbage Hill.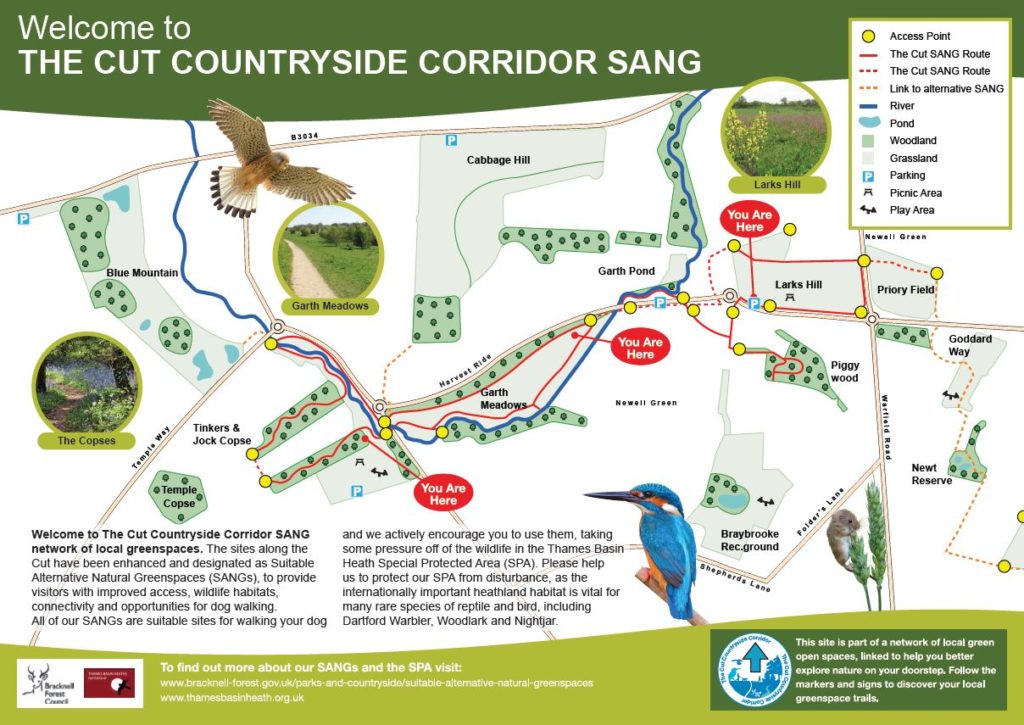 Links with Cabbage Hill's 'Grand Tour' route can be picked up on the north side of the roundabout on Binfield Road at grid reference SU 85895 70526 or at Watersplash Lane at Larks Hill, grid reference SU 86932 70971. Or a short detour off the the marked 'Cut' route, takes you to Blue Mountain.
Dog walkers may find it useful to know that some areas are grazed with cattle at certain times of the year. Larks Hill and Garth Meadows in particular.
Gallery…
If you'd like to contribute to this gallery, we'd love to hear from you. Please send us your pictures via Facebook, Twitter or email.
This 'Greenspace on your doorstep' is managed by…