Apr
07
2020
Countryside access, wildlife and you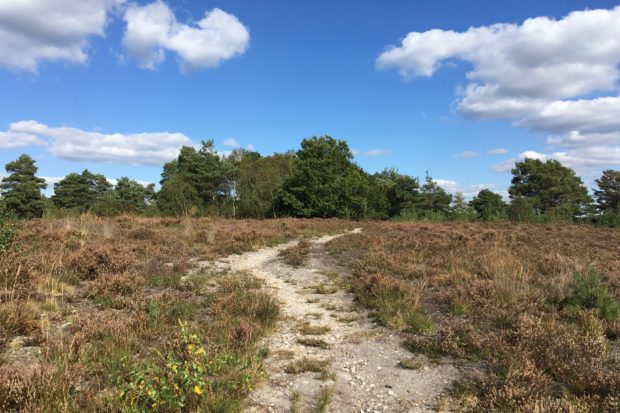 What the law says about our use and enjoyment of outdoor spaces
England has 190,000 km of public rights of way and 865,000 hectares of open access land for us all to enjoy plus countless parks, beaches, woods, towpaths and more. It would be easy to take these for granted and see them as a right not a privilege, but it's important to remember that responsible and lawful use is the best way to ensure these places remain open and free for everyone.
Here are a few points to consider when using your local heathlands and the wider countryside beyond.
Access
It is a good idea to be familiar with the types of rights of way and how they are waymarked. This is based upon the Countryside and Rights of Way Act 2000 (or CROW Act) which provides the official guidance on public access and its importance in relation to the protection of our wild landscapes and wildlife.
Open Access Land – further information
You may use your access rights to go anywhere on open access land by foot. Open access lands are mapped areas of open country (mountain, moor, heath, down) and designated common lands. These freedoms apply only to people on foot. See the leisure activities section below for information on other types of recreation.
Remember, some land may appear as open access on maps but this may not be the case in practice. This is officially recognised and includes land under Ministry of Defence (MoD) bylaws such as military training areas. There are several of these in the Thames Basin Heaths area.
All of these different rights of way allow you to pass along and back but not stay for another purpose, so camping for instance, would be illegal.
Trespass
Currently trespass is not a criminal act, but there is a proposal to change the law to make it so. However, several organisations are opposing this change. Under existing law you could only face prosecution if you have damaged land or structures preventing access whist on private property.
Leisure Activity
Generally permission will be needed for any leisure or commercial activity on rights of way and open access lands, including driving vehicles, foraging, shooting, metal detecting, swimming and lighting fires/camping.
People get great enjoyment from the natural world so when walking dogs please consider the wildlife and livestock around you as access rights can take you through many peoples place of work. The CROW Act requires dogs to be kept on short leads (under two meters) between 1st March and 31st July. This helps protect wildlife such as ground nesting birds. On open access land, other animals (e.g. horses) and bicycles are not automatically allowed. They are permitted at the landowner's discretion.
There are some differences and exceptions for the coastal margins.
Access on the Thames Basin Heaths Protected Areas – a local focus
Our area is very fortunate to have some incredible and rare wildlife and as such is designated a Special Protection Area. Therefore, we ask both people and dogs to stick to the main paths especially between the dates 1st March to 15th September. This is to prevent disturbance to the rare ground nesting birds which are amazing in themselves and help give protection our special heathland sites. Keeping to the main paths can also help reduce the risk of ticks. Please look out for our signs when you're out and about.
A large number of our sites are used by the Ministry of Defence. Please follow access guidance provided by the MoD such as 'Red Flags' indicating no access when flying, and be considerate that this is for your own and the troops safety.
We also ask you to pick up your dog's waste as this changes the sensitive soil composition which has negative knock on effects on plant diversity. It also poses a health risk to all visitors and, on our military sites, this waste is a real and serious health risk to training troops as the heathlands form part of their workplace.
Protecting Wildlife
Protecting wildlife can come in many forms but it can be as easy as staying to the main/marked paths, acting on small requests provided by signage and being a responsible dog owner. This prevents disturbance to the plants or animals you see and perhaps more importantly, those you don't see, when you are out. Taking your rubbish home also prevents the animals from getting hurt.
It can also be easy to break the law when it comes to wildlife protection. Disturbance to protected species, whether intended or accidental is in fact breaking the law, even if your actions seem small or were indeed accidental. An act as simple as you (or your dog) moving through the heather off the path and causing a bird to fly away is classed as disturbance because. This is because it causes the bird to:
use extra energy (this adds up if repeatedly forced to fly during the day)
abandon feeding (itself and potential chicks)
abandon resting (potentially after long migrations)
potentially abandon a nest (making it vulnerable to risks from dogs, people and natural predators)
Further to this, if you damage, injure, kill or take a bird from the wild intentionally or accidentally (through reckless behaviour) then you are again breaking the law. This also extends to birds' nests and eggs. If you see an injured wild animal, contact an animal welfare organisation or the landowner.
Much the same applies to protected plants. For any protected plant, you cannot pick, dig or pull up or destroy that protected plant.
The legal protection referred to here is provided by the Wildlife and Countryside Act 1981. It is the primary official document providing protection to the wildlife of the UK and the areas of land in which they live. It has a heavy focus on the UK's bird life but, the protection is not limited to birds. There are several other legal acts providing protection for UK wildlife including a specific act for badgers.
There is further European level legislation that protects our wildlife currently. This is going to be more or less copied directly into UK law as we leave the European Union.
 What Animals are protected?
As a broad guide the following animals or groups of animal are protected in law:
Bats (all species)
Great Crested Newts
Dormice
Otters
Badgers
Water voles
Wild birds
White clawed crayfish
This is not a complete list of animals protected by law. Remember that there are also protected plant species. However, you should treat all wildlife with care and respect, whether legally protected or not.
Why can people on the TV pick up protected animals?
The people you may see on the TV or at events that are handling wild animals will all have licences to do so. This is almost always to benefit scientific knowledge as the data collected forms long term records and can help with the conservation of the natural world and education of those interested in it. If you want to get involved with these activities then there are many organisations that run regular training courses. Just remember that most of these courses require long term commitment as it takes time to learn all the information about the animals and a lot of practice to be able to handle them safely.
If you don't have the time to learn yourself but are still interested then joining in with events is a great way to get up and close with less often seen animals. Normally you can watch and participate with activities such as bird ringing or newt surveys if you are with a licence holder. Just remember that you should not do these when the licence holder is not present.
Wildlife on the Thames Basin Heaths SPA – a local focus
We are very lucky to have three nationally rare birds that come to our patch to live and breed over the spring and summer months. These are the Dartford Warbler, Nightjar and Woodlark. These birds nest on or near the ground and are particularly vulnerable to disturbance as outlined above.
As well as these three birds, there is much more rare and amazing wildlife on our heathlands. All this wildlife benefits from simple acts such as sticking to the main paths.
Wildfire is another problem our wildlife faces but through your vigilance and reporting to emergency services we can prevent them from happening. Intentional lighting of fires in wildlands is arson and so, a criminal offence. Fires can also start through recklessly discarded cigarette ends or BBQ's so please ensure they are out and then put in a bin.
Additional information sources
More information on open access land
Further information on rights of way can be found in: Rights of Way: A Guide to Law and Practice (or "The Blue Book") published by the Ramblers and The Open Spaces Society in 2007
An overview of the wildlife and countryside act, focusing on birds 
Wardens Rob and Steve