May
31
2019
K9 fire patrol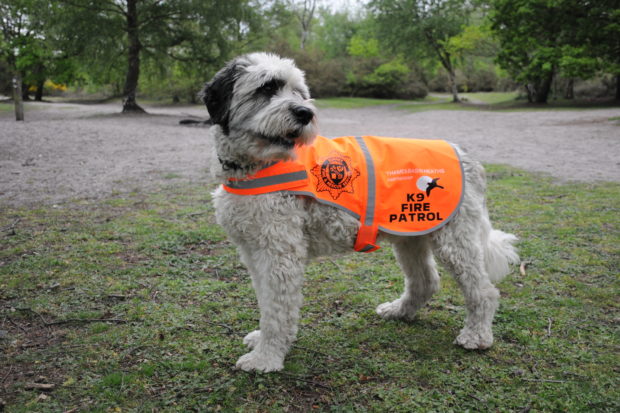 The UK is experiencing one of the worst years for wildfire to date, with over 100 wildfires already reported. We've seen the impact of this locally, with over 10 wildfires across the Special Protected Area so far this year.
Wildfires can have devastating effects on the wildlife that calls our local heathland home. Vulnerable small mammals, reptiles and many insects can't move fast enough to escape the flames and can be burned alive! Rare birds such as the nightjar, Dartford warbler and woodlark, that nest on or near the ground, may be able to escape the flames but their chicks or freshly laid eggs may not be so fortunate. Larger mammals such as deer, badgers and foxes may be able to escape the flames but face the far greater problem of further reduced habitat.
The fuel provided by grasses, heather and gorse is what makes the heathland particularly susceptible to wildfires. Peat on some heaths can mean that fires appear to have gone out, but continue burning under the ground, making them even more damaging and difficult to deal with.
This season we've teamed up with Surrey Fire & Rescue Service to spread the word about wildfires. While chatting to people, we've come across some common misconceptions that we'll try and set straight here:
If you see any form of fire on the heaths call 999, be it a BBQ, bonfire or smouldering tree.
Controlled burns on heathland are never carried out during the summer, especially not during the bird nesting season between March and September.
Wildfires are not good for the heathland. "Controlled" is the key word in controlled burns – they are rigorously planned and managed by experienced professionals in order to get the perfect burn for wildlife regeneration.
It's been lovely to meet over 100 visitors on the Special Protected Area so far and we're looking forward to meeting more!
Opportunities to get involved
We need your help!
The Surrey Fire & Rescue Service have setup the K9 Fire Patrol, where local dog walkers can act as the eyes, ears and even occasionally mouths of the fire service! Volunteers will even receive a very fetching jacket for their dog.
K9 Fire Patrol members need only record their time walking on the heaths and report any fires, fly tipping or anti-social behaviour observed. Members will also gain access to a central email address that goes straight through to the 999 operators. If your canine companion is willing to sport the K9 Fire Patrol jacket, then even better! The jackets will act as a deterrent but also, and potentially more importantly, they will spark interest from other members of the public, providing the perfect opportunity to spread awareness about wildfires and the risks they pose to people, businesses and our local wildlife.
Keep an eye out for any fire wardens on your local patch! Or even sign up yourself – simply email us at tbhpartnership@naturalengland.org.uk to sign up and start protecting your local heath.
Does your heath need a local K9 Fire Patrol?
We have at least 10 more Fire Fighting Friday pit stops in the diary with locations yet to be confirmed so let us know and we'll be there to set up a new K9 Fire Patrol!
Warden Henry