Dec
13
2018
Mad about heathland!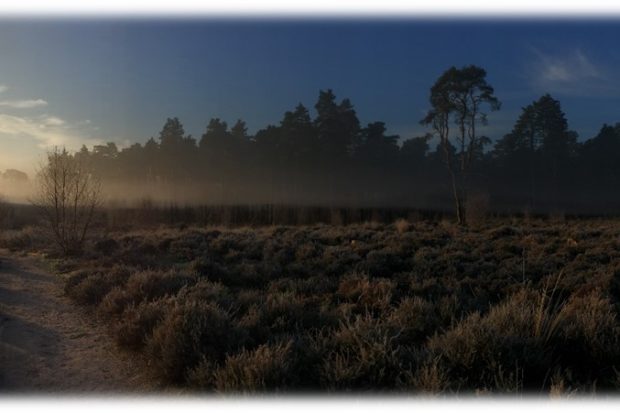 Hello!
I thought I'd take a moment to introduce myself. I'm Michael and I am incredibly excited to be the new Education and Engagement Officer with the Thames Basin Heaths Partnership.
Some of you may know me from my time as a warden, or from working as an assistant ranger with the Surrey Wildlife Trust, or as a field officer with Amphibian and Reptile Conservation. What connects all three jobs is that they have all been inextricably heathland-linked.
I'll say it here, now – I absolutely love heathland! It is an awe-inspiring habitat that supports so many special creatures that rely, pretty much exclusively, on it to provide a space to live and breathe. I have spent countless hours (not on work time, honest!*) lying on sandy tracks watching the soap opera-like lives of solitary bees and wasps unfold before my very eyes. I have watched in awe as a Nightjar flew low overhead at dusk and admired the sheer cheek of a recently-emerged Silver-studded Blue butterfly, still being tended to by the ants it has tricked into thinking was one of them.
Heathland is amazing!
New beginnings…
The Education and Engagement Officer is a newly-created role at the TBH Partnership and I'll be looking for opportunities to spread the word about the wonders of our local heathland to anyone who will listen. In fact, I'll even give it a go if you don't!
I will use this blog to keep everyone up-to-date as to what I have been up to, set the odd nature-based challenge (odd as in occasional rather than strange – mostly!) and sporadically throw a bit of trivia in your direction – Who doesn't love a good fact?
It is early days, but I have already been hard at work investigating how we might set up and deliver a fun, curriculum-linked heathland based education programme to local schools. Doing lots of research and meeting up with some of our partners and organisations further afield in the process. I am grateful for all the advice I have been given and am absorbing as much as I can along the way.
We are very lucky to have so much accessible countryside on our doorstep in Surrey, Hampshire and Berkshire and I will be looking to get as many people as possible (Yes, including you!) to take heathland into their hearts, learn about why it is such an amazing place for nature and how we can all play a part in helping it to survive the challenges it faces and allow it to thrive.
The ultimate aim of my education and engagement endeavours will be to provide extra opportunities for people of all ages to, hopefully, form a special connection with the natural world around them. For some, it will be a connection made for the very first time and for others, it may be a rekindling of a connection lost amongst the busy backdrop of modern life that seems to sneak up and distract us from what I feel is so important.
A chance to join in…
Over time, I hope to link up with community groups and schools across the entire Thames Basin Heaths Special Protection Area and its environs and offer opportunities for people to get involved, learn a bit about wildlife or even learn a lot about wildlife. There'll be walks, talks, assemblies, arty stuff and many other things, so keep an eye on our website, Facebook and Twitter pages for updates.
Well, this all sounds like a lot of work, so I had better sign off…
Wishing you all Good Heath!
Education & Engagement Officer Michael
* Well, some of it was probably during work time!