Feb
19
2019
Ash Ranges and suggested alternatives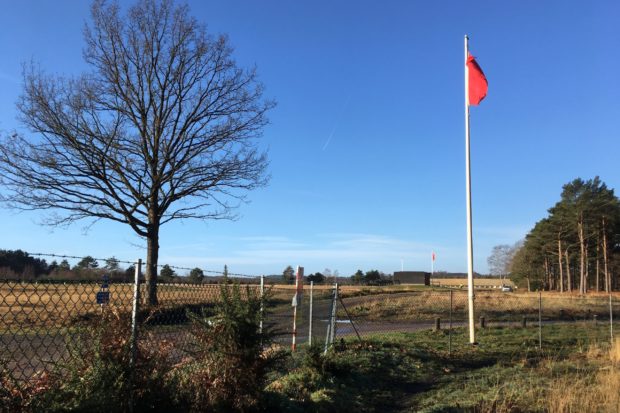 As visitors to Ash Ranges know, it's a vast expanse of wonderful heathland! That such a wild landscape still exists, even in busy south-east England, is a marvel. But I doubt it would be here if the military hadn't earmarked it long ago. It's a busy training area, even today, with access controlled by a flag system. There's no access for the public when the flags are flying, and that's most days of the week. They have a tight schedule of training exercises to get through! But when the flags are down, we can all enjoy a chance to explore, as long as we don't disrupt training activities.
At the Thames Basin Heaths Partnership, we work very closely with the Ministry of Defence, particularly the safety marshalls and recreation advisors, so we understand some of the pressures they're under and how seemingly innocent interruptions can cause costly delays, not to mention the possibility of a terrible accident. To help avoid either scenario, staff on the ground have recently been joined by a detachment of Ministry of Defence Police, who are enforcing parking restrictions and byelaws. They'll be keeping a closer eye on commercial dog walking, for example, which is not allowed, but hasn't been effectively policed until recently.
So, while we understand that it's hard to suggest alternatives to such a large, scenic and unique place, we're in the fortunate position of being able to recommend a couple of very good ones. And best of all, they're all free, open all the time and have no restrictions on dog walking, commercial or otherwise.
One you might not have heard about is Ash Green Meadows. Only recently opened, and still being setup, it's well worth seeking out. I went exploring there recently and traced a route around the meadows of around 4km. There's a brand new free car park too, at the very end of South Lane, Shawfield near Ash. Find out more about what's there and how to find it, on our Ash Green Meadows page.
My other recommendation, which has been open over three years now, is Wellesley Woodlands. This is huge, with numerous routes. You can park at the Wellington Statue and explore Duke's Wood and the Basingstoke Canal from the Aldershot end. Or, closer to Ash, why not park at the Lake and Canal Side car park at Chalk Farm Lake and explore from the other end? I dropped in here recently, and took a lovely walk around the attractive fishing lake, and then along the peaceful Canal to where it overlooks Farnborough Airport, at Eelmoor. That must be 10km of walking, with no busy roads to cross! And that wasn't all of it, I didn't venture south to Rushmoor Bottom and the Wellington Statue, or into the outliers of Thorn Hill or Heather Hill.
Do explore and let us know what you think! They might not offer quite the expanse of Ash Ranges, but they are sizeable and attractive places to walk. Free and safe too.
Snr Warden Sarah