Jul
14
2019
2019 Cricket World Cup Final – England v. New Zealand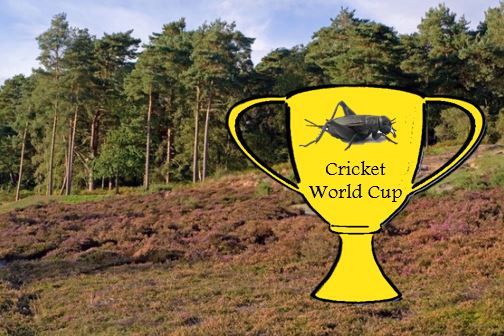 There'll be a new name on the trophy after today's final! Neither team has won it before – England have been runners up 3 times and New Zealand lost their only final against Australia down under 4 years ago.
England played brilliantly to knock out the champions in the semi-final, and the Kiwis overcame the odds to beat the hot favourites India. England should expect a tougher game today than the group match, when they beat New Zealand easily.
In our Heathland Cricket World Cup the future looks positive for the field cricket, as our RSPB partners continue their restoration project work at Farnham Heath. Let's hope the population increases and expands its range. Similar conservation efforts are ongoing in New Zealand to save a number of species, including the giant weta, which is confined to a handful of islands, where introduced mammals are threatening its existence.
I've enjoyed researching weird and wonderful insects from around the world and hope you've enjoyed reading about them. Enjoy the final!
Warden Steve