May
03
2022
Dawn chorus at Bramshill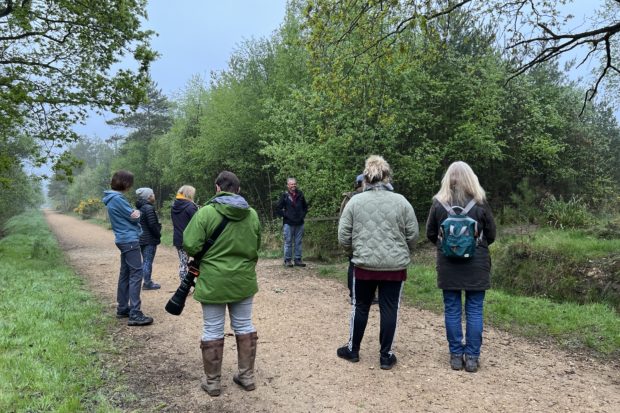 Yesterday we were joined by Simon Holloway, Forestry England's wildlife officer for the Micheldever Beat, and 11 members of the public to celebrate International Dawn Chorus Day.
The 6 am start on a bank holiday meant little traffic noise, and calm conditions meant that birdsong could be heard loud and clear, and none more so than a Garden Warbler, getting us off to a flying start before leaving the car park. We walked as quietly as possible into the forest, remaining silent as we counted the number of calls as we went. Soon we had added two more warblers – Blackcap and Willow Warbler to the list, as well as Blackbird, Woodpigeon and Robin. A strange roar threw us for a minute until Simon recognised it as a Muntjac Deer! Back to the warblers and a Chiffchaff started up, before a surprise Lapwing. Back to more familiar birds with Wren, Jackdaw and Blue Tit, then a distant Cuckoo – the first of the year for many.
Making our way back to the start point we passed some ponds, and heard Coot and Moorhen, adding Song Thrush to the list among more Blackcaps. Back in an open area a Tree Pipit was displaying, singing and perching on a tall pine. Before crossing the busy road, warbler number 5 was going well, but the Whitethroat was by now having to compete with traffic noise.
Then at last we were treated to our headline act – a Woodlark singing in perfect stillness. Simon explained how a newly felled forestry compartment is perfect for Woodlarks, and after planting will become more suitable for the other two of our special protection species – Nightjar and Dartford Warbler – as the trees begin to mature. With thoughts turning to breakfast we picked up a few bonus calls on the way back to our cars – Canada Goose, Greenfinch, Goldfinch and Great Tit.
It was nice to spend time "up with the lark" before anyone else and hear so many birds – final count 22 species!
Wardens Steve and Zoe
For more FREE activities, see our What's on page.