Jan
07
2020
My favourite greenspace: Brookwood Country Park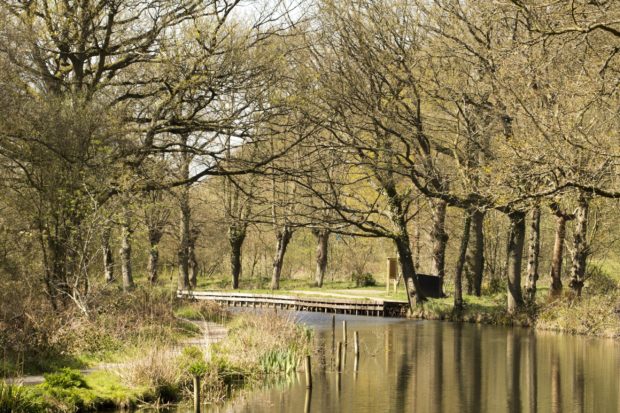 Brookwood Country Park is situated on the former grounds of Brookwood Hospital. After the hospital's closure in 1994, the grounds were developed for housing, but a large area was converted by Woking Borough Council into the present park that runs alongside the Basingstoke Canal. This waterway is an added attraction and asset, offering people the opportunity for a longer walk and acting as a freshwater wildlife corridor to direct water-birds, dragonflies and damselflies to the park's ponds. One of the licenced fishermen at these ponds once told me all about the fish he'd caught here: carp; bream; rudd; tench; roach; perch; crucian carp; golden orfe and common mirror (I'd never even heard of those last three!).
It has been my greatest pleasure in recent years to have conducted a number of walks and talks at Brookwood Country Park. The meadows have proven ideal in July for butterfly-themed nature walks; and the trees and shrubs, laden with the fruits of autumn, have provided plentiful points of interest in late-October.
I am particularly fond of the trees at Brookwood. Take, for example, the young oaks scattered around the meadows. Growing out in the open rather than in a shady wood – where they would face competition for light from surrounding trees – these oaks are destined to develop into the future 'Mighty Oaks of Olde England'. In centuries to come, pilgrims will converge upon Brookwood from far and wide to marvel at the regal splendour of its fabled 'Mighty Oaks'.
By-the-way, did you know that in England there are 118 oak trees over 900 years old, whereas, in the whole of Western Europe there are only 97? This is thanks to our mediaeval ancestors whose grazing management of wood pasture, such as Great Windsor Park, was the best in the world.
Continuing the tree theme, Brookwood Country Park has something that I haven't noticed anywhere else in Surrey: a mature row of pollarded lime trees. This could well be an ideal location to observe the lime hawkmoth adult flying at night from May to July – or its caterpillar from May to September.
Finally, I must mention the solitary Italian alder, tucked away alongside common alder by one of the ponds. The Italian alder isn't rare – it is sometimes planted in parks and gardens – but it's the only one I've spotted in Surrey. When I first came upon it, in my surprise I exclaimed aloud, "Ciao bella!" I didn't actually know I could speak Italian. In fact, now I come to think of it, discovering I could speak a foreign language is yet another reason why Brookwood Country Park is my favourite!
Warden Mike
Find Brookwood Country Park and lots of other fantastic entries in "Greenspace on your doorstep". Read online or pick up a free copy from the Heather Farm Café or at many of the activities listed in our What's on guide.
<< Previous