Nov
28
2019
My favourite greenspace: Wellesley Water Meadow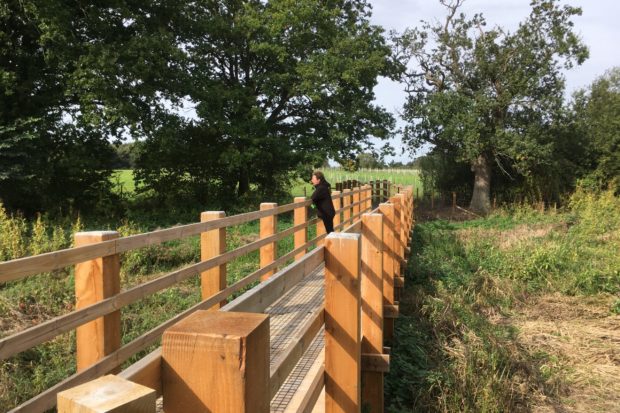 It was a difficult choice this week, picking out one of the many 'Greenspace on your doorstep' entries from such a varied selection. A bit like a child in a sweet shop, I could select a scenic meadow, a woodland bursting with autumnal colour, beautiful hilltop views, wildlife spotting opportunities or even fascinating historical interest!
For me, as a busy working parent, country walks can offer some temporary peace and tranquillity, a chance to get away from it all. As someone drawn to water, add a meandering river and I'm sold! Which is why I've chosen Wellesley Water Meadow.
Tucked away behind Wellington Country Park and nestled amongst scenic Berkshire countryside, it's a gem. Newly opened, and with no background traffic noise, you feel you have a rural idyll all to yourself. With plenty of benches, you can sit a while and top up your vitamin D levels in the winter sun and admire the views to the landscape beyond. This openness adds to a feeling of safety too, and information boards and waymarkers mean there are no opportunities to get lost!
Running a dog walking group I can't neglect what the water meadows offer for our doggy companions. Lots of off path open space to zoom around, play games and snuffle. And who can resist a dip in the river? For those practicing their recall skills, the dog-proof fencing provides reassuring containment.
A lovely balance of newly planted trees, existing mature oaks and wet areas crossed by boardwalks provides opportunities for wildlife spotting and gives variety to the hour long circular walk.
So you see, something for everyone!
I look forward to seeing the meadow blossom in the coming spring and summer months and to watching the newly planted trees mature over the years.
Warden Nicky
Find Wellesley Water Meadow and lots of other fantastic entries in 'Greenspace on your doorstep'. Read online or pick up a free copy from the Heather Farm Café or at many of the activities listed in our What's on guide.