Nov
20
2019
My favourite greenspace: Farnham Park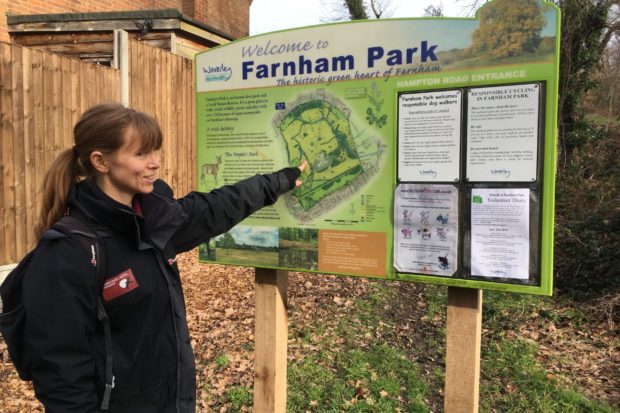 Choosing a favourite 'Greenspace on your doorstep' entry was difficult. I really love Edenbrook Country Park (great for birdwatching) and Buckler's Forest (innovative design and a fantastic mini-museum), but I think my local entry trumps them all!
Welcome to Farnham Park!
Farnham Park is an historic deer park and local nature reserve, just a short walk from the town centre. It offers beautiful southerly views of Farnham town and the countryside beyond. It's one of the largest entries, at 320 acres (150 ha), comprising rolling grassland, hidden dells, streams, ponds and wooded copses. It's truly a fantastic place to explore with your dog!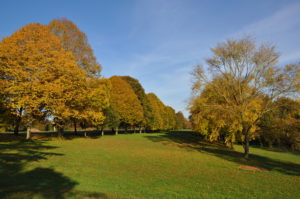 Farnham Castle, originally a Norman motte and bailey castle, sits on the western side of the park and has been added to over the centuries by the powerful Bishops of Winchester. They've owned land around Farnham since the 9th Century and the park's boundary has remained unchanged since Bishop Wykeham enclosed it in 1376.
A surfaced circular path runs through the centre and along the eastern margin, with numerous informal criss-crossing pathways. There's a huge variety of routes to take, which means you don't have to take the same route twice.
On the southern slopes below The Avenue, a path lined with lime and beech trees, you will find chalk downland with flowers such as harebells and field scabious and many butterflies including gatekeepers, ringlets and marbled whites. In low light you may also see regular undulations, which are the remains of the medieval strip and furrow field systems.
To the north, the park has a more informal feel with rough grassland and wooded areas. Here you will find many ancient trees, some of which date from the medieval deer park and also the Nadder Stream which gets its name from the old English word meaning 'winding one'. There are also many ponds rich in wildlife including dragonflies and waterfowl; these are fenced for protection, however the 'Friends Pond' is accessible to dogs. Some areas are grazed by cattle in the summer, and these are clearly signed at all access points.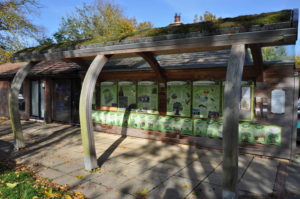 There are lots of benches, and large information boards at all of the main entrances (all entrances have a small site map and their location marked). Information leaflets and maps can be found at the ranger's office in the main car park. For dog walkers, there are plenty of bins and free poo bags too.
Families are well catered for with a play area for younger children and an adventure playground and trim trail for older kids (and adults – the zip wire is great fun!). Hunting for hidden geocaches will make a walk even more exciting, don't forget to take small knick-knacks to trade!
The golf club's café and toilets are open to everyone (from 9am every day, except Christmas Day) serving coffee, cake and more. They welcome dogs and have drinking water bowls and free dog treats for your pet.
If you decide to visit, there are two car parks with free parking, both accessed from the A287 Folly Hill. The main car park is nearest the castle and ranger's office, the second, smaller car park can be found 400m up the hill.
I hope you enjoy exploring Farnham Park as much as I do!
Warden Jo
Further information on the Waverley Borough Council website, and find Farnham Park and lots of other fantastic entries in 'Greenspace on your doorstep'.