Mar
20
2020
Staying wild whilst working from home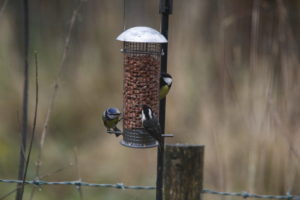 For an outdoorsy worker, I have to admit that working from home is a bit of a challenge. But following social distancing advice is critically important at the moment, so I thought I would share some of my top tips to connect with nature whilst self-isolating! Wildlife is all around us, whether it's out of the window, in your house, or on your computer screen. It all counts, and it can all make a massive difference to our well-being. I tell you what, my houseplants are getting the best care they've ever had.
Firstly, the countryside is not shut! If you can follow all of the government's guidelines, and get out alone for a walk, enjoy the greenery and the bird song. Absorb it in, take some photos, and share it! We can now be found on Instagram, so tag us in your explorations and follow us to check out what we are up to whilst working from home. And show us what nature you can see from your window (even feral pigeons count, it's all nature to us). Check out our website to find local greenspaces near you!
I understand though that for many people, there isn't a garden or a park outside the front door, and the view from the window may be less than ideal. So here are some ideas to bring nature inside and virtually:
Webcams
A great way to connect with friends and family at this time, but also a fantastic way to connect with nature! A quick google will find loads of wildlife webcams, showing bird feeders, nests, or even watering holes in the African Savannah… My personal favourite is a bit closer to home, the Woking Peregrine Project, where the resident Peregrine falcon pair have already laid 3 eggs! I'm following their story and may have become slightly obsessed with it… Once the eggs hatch there will be plenty of amazing behaviour to spy on, and will be really interesting to see what prey is brought back to the nest! Other examples include the many found here, the tawny owls are particularly fabulous.
Plants
I took 19 houseplants and 28 chilli pepper seedlings to my self-isolation bungalow. Don't judge me. But they are definitely helping. Not only do they provide oxygen in the room, they just look pretty, and misting my humidity loving cheese plant is a nice little break. I believe that outside of Kew Gardens I now own the most cared for plants in the world, but I am open to competition. Just try not to overwater them… If you have plants already, maybe move them to your work desk? If not, whilst shopping for supplies, pick up a cactus! By the pot though, watch those spikes.
Bird Feeders
Birds fluttering around (or big fat pigeons crashing onto windowsills) is a great break from your computer screen. If you have a garden, pop up some feeders! Many supermarkets stock bird seed, which hopefully hasn't all been raided yet. No garden? No problem! Stick on window bird feeders are available in many forms and these are an excellent way of getting a close up view. Stick them on a quieter window and give the birds some time to get used to it. They can work in cities, but may just take a little longer for the birds to find them.
Let us know on how you are connecting to nature from home on our Facebook and Instagram, we will have more posts and blogs coming up, with even more ways to go a bit wild at home! Stay safe, check up on friends and family, maybe send someone a bird feeder or even just the links to some interesting wildlife webcams?
Warden Jamie