Apr
15
2020
Bluebells at a greenspace near you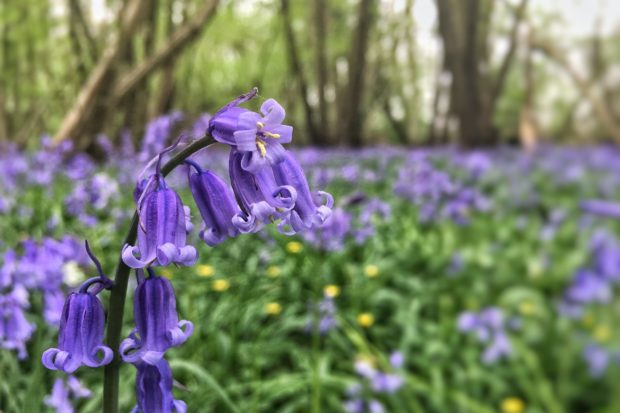 Bluebells are a seasonal treat to enjoy, bringing happiness to many. A very delicate flower that does not recover from trampling, they are almost always found in native broadleaved woodlands.
There are several areas around the Thames Basin Heaths that are good spots to see bluebells from around mid-April.
Ambarrow Court & Hill – Part of a former Victorian country estate, close to Sandhurst, its ancient and mixed woodlands are now managed with bluebells and other wildlife in mind. As a result, these much loved and delicate flowers are flourishing.
Chantry Woods – A large mixed woodland hides some (future) giants of the tree world, the American Redwoods. A short distance from Guildford, the spectacular bluebell display is large enough for their soft scent to fill the air.
Rowhill Nature Reserve – Not far from Aldershot, this beautiful mix of habitats makes for a great walk. The bluebells are to be found putting on a show in the broadleaved woodland. Their continued existence is probably aided by coppicing, a traditional activity to harvest wood that results in increased light levels to the forest floor.
Southwood Woodland – A rich, diverse and regenerating area of woodland near Farnborough, this designated site of importance for nature conservation has small carpets of bluebells hidden within. Try visiting at the end of April when bluebells and other wildflowers are normally at their best.
It may also be worth searching in these locations:
To find out where these places are located, please visit our 'Greenspace on your doorstep' guide. Remember that bluebells are a protected wildflower so please refrain from picking or digging up the plants. Please remember to stay local during the Covid-19 outbreak.
Enjoy the magic of this seasonal spectacular of colour. Please do send in your bluebell pictures and share any other great locations to see these flowers.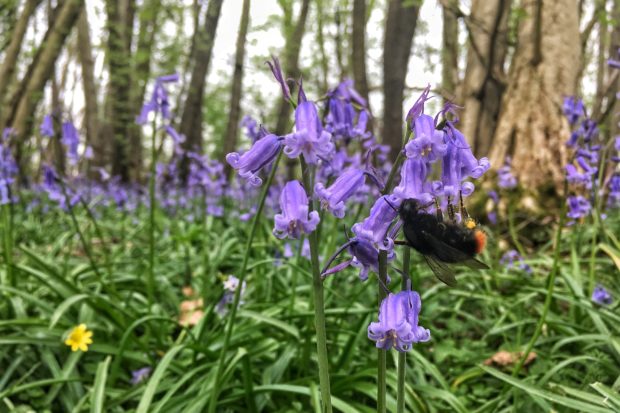 Bluebell identification and ecology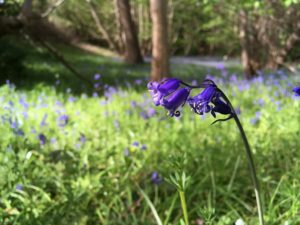 If in search of British bluebells, the best place to start is the woods and in particular ancient woodlands, from around mid-April. However you are unlikely to find them in plantation woodlands of conifer as there is not enough light reaching the ground. Bluebells are primarily found in ancient and undisturbed woodlands because they have very poor dispersal abilities meaning they take a long time to spread across a woodland floor. It takes four to five years to go from seed to flower with other studies having shown a spread of only 10 meters in a century!
The following features separate our native British bluebell from the Spanish bluebell. The Spanish flower is a garden escape that threatens the native variety through hybridisation. Hybrid bluebells show a combination of features:
Native British bluebell
Creamy white pollen
Flowers on one side of the stem only, with a rich dark blue colour and lightly scented
Flower maintains tight bell shape, opening out at the very end only
Stem curves at the top (not dead straight)
Leaves and stem delicate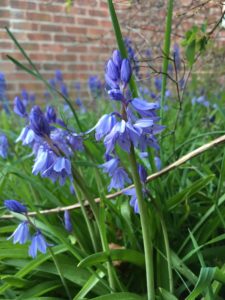 Spanish bluebell
Pale powder blue pollen, similar colour to the flower
Flowers on all sides of the stem, pale sky blue with no scent
Flowers much more open
Stems are dead straight/upright
Leaves and stem broader and fleshier
Remember that native bluebells are a protected wildflower so please refrain from picking or digging up the plants. They are incredibly delicate and will wither and die if trampled so please stick to the paths when in bluebell woods so that everyone can enjoy these flowers. If you would like bluebells for your garden then check your garden centre for bulbs that have been cultivated, not taken from the wild.
Warden Rob