Aug
17
2021
Ruth's Heath Week road trip!
We've been planning and talking about Heath Week since I joined the team back in October 2020. It was SO exciting that we were actually able to put on physical events AND that I was able to go to some of them. I decided to make the most of a day out from behind my computer and see as many events as possible!
My first stop was Bramshill Forest for the 'Forestry Finds' event. We teamed up with amazing folk from Forestry England and Hampshire & Isle of Wight Amphibian & Reptile Group (HIWARG). Our brilliant wardens were there too leading guided walks to discover amazing wildlife. I saw my first ever wasp spider!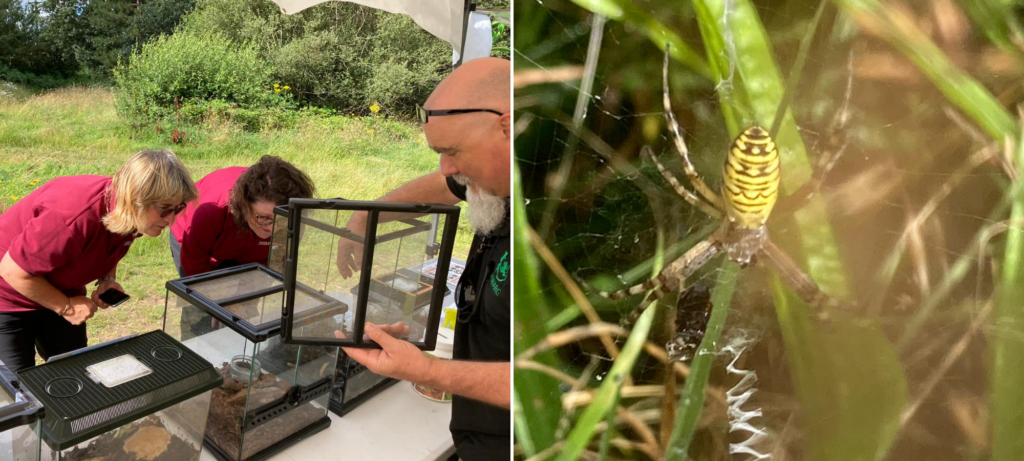 That's me with Warden Val, peering into the magical tanks brought along by HIWARG (left) and the wasp spider (right)
I had to tear myself away to pop along to the next event at Chobham Common, Staple Hill, where our brilliant wardens were taking visitors on guided walks and showing us all amazing 'Butterflies & Other Things with Wings'. A magical glimpse at just some of heathland's inhabitants!
The day was slipping away from me, but I dashed over to another event on Chobham Common, this time at Roundabout Car Park, where we had partnered with Surrey Fire & Rescue Service for our 'Wildfire Roadshow' to talk about the dangers of wildfire and how important it is to be careful in the countryside. The firefighters had some amazing equipment, including a UNIMOG, which is like a mini fire engine used to fight fire out on the heath itself. It's still big though, weighting in at 9 tonnes! I was fascinated to learn that the tires can deflate completely to form a raft if the ground is soft and the engine might sink. This amazing bit of kit even has a water cannon at the front!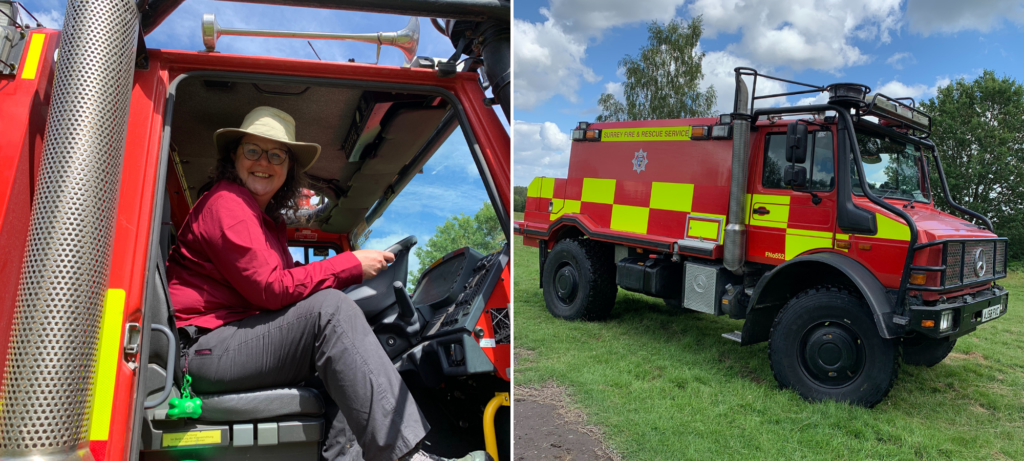 And here I am trying the unimog out for size (left) and the machine itself (right)
A full and exciting day for me, filled with brilliant experiences! Thanks to the team for all their hard work and a special shout out to Sarah, our Communications Officer, for pulling it all together!
Ruth
Project Manager
We'd love to hear what you thought of Heath Week and your ideas to make it better, please do take a moment to fill in our…