Apr
07
2023
Hazeley Heath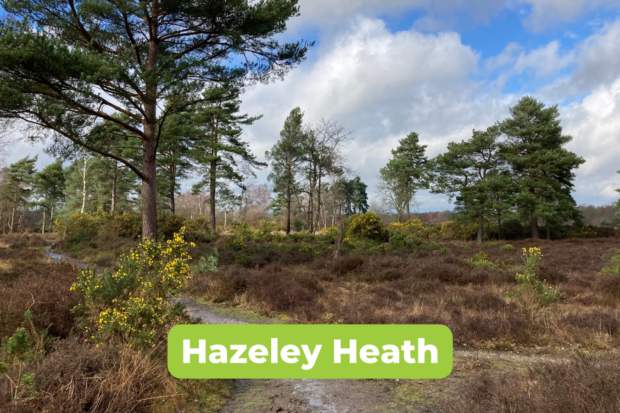 All our heaths are special, but tranquil Hazeley Heath is definitely up there. Not only is it a veritable feast for nature-lovers, a jewel of a nature reserve, it has a fascinating history as well (extra Brownie points from me!). It was commandeered for tank training during World War II and you'll still find intriguing echoes of this today.
Butterfly fans will be excited to hear that two of our rarest butterflies are found here. The RSPB have done brilliant work for the diminutive Silver-studded Blue and numbers have increased from only 20 before 2016, to the hundreds you'll see on sunny days in June and July. A little later, at the end of July and into August, the brilliantly camouflaged Grayling will be at large. Now you see them, now you don't! They do an incredible disappearing act when they land on sandy paths!
May is also an exciting time, here and on heaths across the area! That's when the Nightjars start arriving back from Africa. I never get bored of listening out for their 'churring' at dusk. If you haven't experienced it, you must come on one of our Nightjar walks this summer, it's a magical experience. Keep an eye on our 'What's On' calendar for details.
You can help keep Nightjars, other wildlife and grazing animals safe by following a few simple requests. Please pick up after your dogs and please keep to the main paths, keeping dogs with you on the paths. Nightjars and other very special birds nest here, nesting on the ground or amongst low growing vegetation like heather and gorse. The nesting season runs from March to September. Woodlarks are the first to start, choosing nest sites from March, or before. Dartford Warblers and Stonechats will be close behind them and the Nightjars arrive in May and stay until September. Because their nests are on the ground, these birds are easily scared off and that's why we say #PawsOnPathsPlease at this time of year. It's not necessarily that dogs chase or even harm the birds, but if they're repeatedly scared off, they'll eventually abandon their nests.
Please do help us spread the word…by keeping to the main paths and helping to prevent fires, we'll protect the birds and other wildlife, and help to keep this important part of the Thames Basin Heaths Special Protection Area safe for future generations.
Good to know…
There's no designated car park. Find limited free car parking in a layby on the B3011, Hartley Wintney, Hampshire RG27, opposite the junction with Arrow Lane. What3Words: curiosity.postage.suiting.
Dogs are not required to be on leads, but please keep them close and with you on the paths. If you're not sure of your recall, please keep them on a lead.
Cattle may be grazing. Don't be concerned, there's an electronic Nofence virtual fencing system to contain them. Please keep dogs on leads around grazing animals.
If you're a regular dog walker and would like to try somewhere new, where you can let your dog off the lead, our top recommendations are Queen Elizabeth II Fields at Hartley Wintney (2.5 miles),  Wellesley Water Meadow near Riseley (3.7 miles) and Whitewater Meadows & Bassetts Mead, either side of the A30 near Hook (4 miles). Our 'Greenspace on your doorstep' pages have lots more options too.
If you're interested in practical volunteering, both the RSPB and Hart District Council run volunteer programmes and would be pleased to hear from you.
The northern end of the heath is owned and managed by the RSPB, find information and contact details on their webpage. Hart District Council own and manage the more southerly section and also provide information and up to date news on their webpage. Contact details for Hart District Council here.
Hazeley Heath gallery…
[Click on the images for the full size versions, and to see the captions for more information]
These photographs have all been taken by my wardening team mates or colleagues at partner organisations. We visit Hazeley Heath regularly and are there to spread the word about this special place and help visitors enjoy their visits without disturbing the wildlife. Please follow us on social media, we'd love to share more of the magic of heathland with you.
Thank you everyone 🙏
Sarah
Thames Basin Heaths Partnership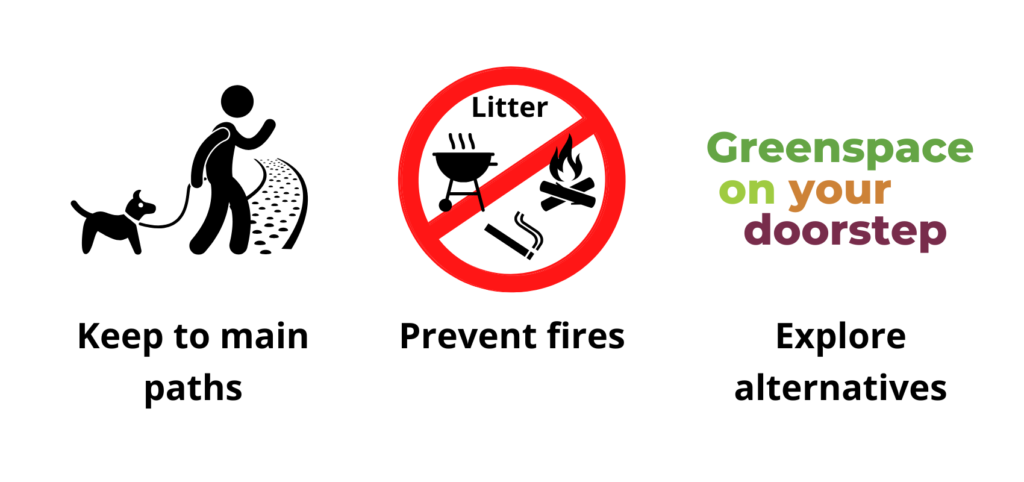 #PawsOnPathsPlease